They came and they continued to come. It was a procession of Biblical proportions that took place on the third Saturday in January, 2005. While it was predicted that the procession might be larger than usual as Cebuanos thank the Child Jesus for sparing Cebu from the tsunamis that ravaged other parts of Asia, no-one in their wildest dreams thought it would be as long as it turned out to be. Some officials refused to give estimates, others put the figure at 600,000. Wa'y Blima! agrees that at the very least half a million people must have thronged the streets.

The statuette of Santo Nino - known as the image - was taken from the Basilica Minore del Santo Nino and placed inside a gilded glass box, which was in turn placed on a carriage, lavishly decorated with ribbons and fine flowers from the mountains of Busay. And thus the procession began.

Leading the procession were motorcycle cops; these cleared the way of vendors and others that might get in the way. The procession itself was spearheaded by altar boys, who were quickly followed by people in wheelchairs. And then the multitude came: masses of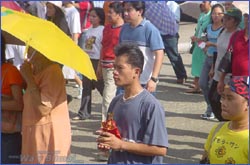 people, people, people. Old people, young people, rich people, poor people, people in big groups, and people alone. Many of them clutching their own images of the Santo Nino, they trudged the long routine in silence; some of them prayed the rosary. Cellphones were off and the habitual banter was subdued, for this was a holy occasion.
Every now and then the procession was punctuated by a drum and bugle corps, or an organized group in uniform, such as nurses from a college or a group of workers from a company. These would be holding banners, and sometimes marching in step. But for the most part, it was just people like you and me, a continuous stream of ordinary folks - carrying toddlers, pushing strollers, or wheeling grandpa - which continued flow for hours and hours.
When it truly seemed as if the whole population of Cebu Province had been exhausted, and the sun's rays had fallen nearly below the horizon, finally, a murmur of excitement. And there, in the distance, riding regally on a sea of heads, there it was. Buffered by military personal three deep on each side, humming lightly because of a generator which powered its lights, the Santo Nino's carriage passed by, and the assembled spectators shouted their delight: Senyor Santo Nino! Viva Pit Senyor!