During the Sinulog Festival, the revered Santo Nino is removed from his usual home in the Basilica del Santo Nino and taken for a procession, as is the case with the icon of any saint. However, in the case of the Santo Nino, several other events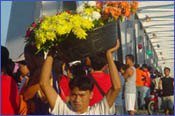 are included in the agenda. On Friday in the third week of January, the Santo Nino is customarily transferred to Mandaue City, and is kept in Mandaue City overnight.

Then, in an insanely risky procedure that is testament to the faith Cebuanos have in the protective powers of the Santo Nino, the Santo Nino is put aboard a boat - this year it was the Trinidad - and spearheads a traditional Fluvial Procession. Also on board is the image of Our Lady of Guadalupe.

During the Fluvial Procession ozens and dozens of boats follow the Santo Nino until it is back on dry land. After leaving the Ouano wharf in Mandaue, the Santo Nino travels across the Mactan Channel and swings by the harbor of Lapu-Lapu City, before heading on to Pier 1 in Cebu City. The distances involved are short but due to the large number of boats involved the procession takes about three hours to complete.

A good number of the boats will have been chartered by contingents of the faithful from different neighborhoods. The boats are festively decorated with balloons and flowers. Many will have drum and bugle bands aboard, and passengers will be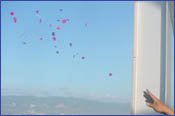 dancing, attired in bright tee-shirts printed for the occasion. Some will hold small replicas of the Santo Nino.
Despite taking place at 6:00 AM, the Fluvial Procession draws throngs of crowds, who stand along the shoreline or crowd onto the bridges. Flower vendors will cater to those who didn't bring any flowers. When the Santo Nino passes nearby, the devotees the excitement of the assembled masses climaxes; the faithful toss their flowers into the sea and throw confetti into the air, loudly hailing the Holy Child: "Viva! Pit Senyor!"
Accidents abound. In 2004, a motorboat sank. In 2005, two boats collided and one boat sank, and one of the bancas carrying devotees ran aground on some shoals; the fact that nobody drowned in either incident was attributed to the benevolence of the Santo Nino.